Switching to renewable energy by installing a 3.5 MWp captive solar plant, reducing energy consumption by deploying heat pumps, installing VFDs(Variable Frequency Drives) and even timers to switch off lights during tea breaks(even if the break is only 10 minutes) – ranging from the most obvious to the less obvious, these were some of the key green energy initiatives taken by Daimler India Commercial Vehicles, UCAL Fuel Systems and Brakes India Ltd. The details of these initiatives were presented during the 5th Edition of Footprints, organized by South Indian Chamber of Commerce and Industry(SICCI) on 24th November 2017 at Chennai.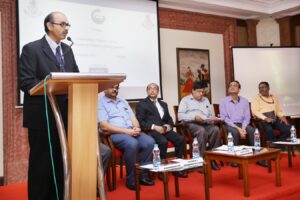 About Footprints
Footprints is a series of events that celebrates Climate Change Mitigation in Manufacturing Industry by providing the stage for the pioneers in the manufacturing industry who are doing their extra bit to protect the environment in whatever way they can.
The 1st Edition of Footprints was held in June 2015, with the support of IIM Ahmedabad's Centre for Innovation Incubation and Entrepreneurship(CIIE), Infuse Ventures, an early stage venture capital(VC) fund and ecosystem focused on sustainability and clean energy sector in India and HSBC Bank. The well-received – one of its kind – Footprints event has since been serving as a platform for exchanging best practices in Climate Change Mitigation initiatives as well as for some great networking among like minded industry professionals.
The event has had speakers from industries and academia, like
• the Indian subsidiaries of multi-national companies like Saint Gobain Glasses(France), Grundfos(Denmark), Daimler(Germany),
• some of the Indian auto majors like Ashok Leyland, Tata Motors, component manufacturers like Brakes India Ltd, Wheels India Ltd, UCAL Fuel Systems,
• other firms like Chemplast Sanmar, Orchid Pharma and Dharani Sugars, and
• IIT Madras.
The different Editions of the event have been held in Chennai and Hosur so far.
The past Editions of Footprints each had a theme – "Zero Liquid Discharge" and "Energy Efficiency in Manufacturing Industry".
5th Edition of Footprints
Peter Drucker's famous quote "What gets measured gets managed", is particularly true in effective implementation of Energy Efficiency initiatives, and with today's advancements in embedded devices technology, falling costs of sensors and associated hardware, and the increasing sophistication of the backend software that collects data and analyses energy usage, real-time energy monitoring of energy usage has the potential to transform industries. Realizing the potential of IoT(Internet of Things) in energy efficiency, companies large and small – from Intel to Altizon – are providing solutions that will help companies not only track their energy usage, but proactive reduce it.
While IoT technologies are rapidly improving, what is the reality on the ground? How are manufacturing firms measuring their energy usage and reducing their energy consumption? The organizers of Footprints wanted the industry to address this issue. Hence "Energy Monitoring in Manufacturing Industry" was selected as the theme of the 5th Edition of Footprints.
For this event, 3 manufacturing firms shared their experience in reducing their energy consumption by deploying energy monitoring systems and processes. The 3 companies were
1. UCAL Fuel Systems Ltd
2. Daimler India Commercial Vehicles Pvt Ltd
3. Brakes India Ltd
Veteran Journalist, Mr. M. Ramesh, Senior Deputy Editor of The Hindu Businessline moderated the event. The high quality audience included representatives from companies like Royal Enfield, Lucas TVS, Stanadyne, SPIC Group, etc.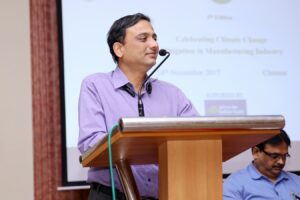 After the opening remarks by the SICCI Secretary General Dr. S. Raghavan about the event, Mr. Bhoovarahan Thirumalai, CEO of Aspiration Cleantech Ventures, set the tone for the event by providing the context for the theme address and explained how monitoring of energy usage is the first step in saving energy. He highlighted the fact that it is quite difficult for any company to prioritize energy efficiency initiatives since its impact is more on the bottomline, and the tangible impact of these initiatives get visible only over the mid to long term. However, the good news is that despite the constraints, top management of many companies recognize the importance of climate change mitigation and are taking a long-term view in pushing for these initiatives.
The first speaker was Mr. Jaishankar T, General Manager, UCAL Fuel Systems Ltd and he explained several initiatives that has led to significant reduction in power consumption. The goal is to reduce 10% power cost every year by reducing power consumption and lowering the unit cost of power.
Some of the initiatives in reducing power consumption include
-Identifying the fixed and variable loads using Krykod energy monitoring system
-Implementing thyristor controls in PDC electrical furnace
-Using solar street lights and heat pump
-A trial run of Heat Pumps to replace electric washing machines have shown upto 40% savings in electricity consumption.
Initiatives that led to lower power cost include
-Optimized power utilization to reduce cost per unit in DG
-Owning and operating own wind firms in Palladam (Coimbatore Dt) and Muppanthal (Kanyakumari Dt)
-3rd party solar power purchase and also installation of solar PV systems in factory premises 
(Click here to know about UCAL Fuel Systems Ltd presentation)
2. Daimler India Commercial Vehicles Pvt Ltd
The next speaker was Mr. Deepak Kumar Gupta, AGM Utilities, Daimler India Commercial Vehicles Pvt Ltd  India explained how Daimler was one of the pioneers in installing rooftop PV installation in India by installing a 300 kWp project way back in 2013. The size of their captive solar PV project within the factory premises has grown ten-fold since then, and touched a capacity of 3.2 MWp. Daimler has a state of the art SCADA system that captures real-time data at a granular level and can be used to set baseline energy consumption, and assist in continuous improvements in energy efficiency.
When it comes to energy savings measures, the company-Uses timer controls in Air conditioners and Lightings and
-Has installed VFDs in every motor
-Reduction of wastage of compressed air
-Waste Heat Recovery initiatives
Non-energy related Climate Change Mitigation efforts include
-Planting 16,000 trees in the factory premises
-Water treatment measures that lead to annual savings of 1.7lakh liters of water (zero liquid wastage)
The cumulative impact of these initiatives is the reduction of 16 Tons of CO2 every year.
(Click here to know about Daimler India Commercial Vehicles Pvt Ltd presentation)
3. Brakes India Ltd
The final presentation was by Mr. Parvathy Shankar and Mr. Varadarajan – energy managers from Brakes India Ltd and some of the initiatives taken by Brakes India Ltd
All the presentations were well received, judging by the questions from the audience and the subsequent interactions. Overall, there was some takeaway for everyone who participated in the event.
The Secretary General of SICCI announced that the next Edition of Footprints is tentatively scheduled for the last week of January 2018, and details will be announced soon.
In conclusion, the 5th Edition of the Footprints took one more step, however small, in bringing to highlight the Climate Change Mitigation efforts of some of the major players in the manufacturing industry.
Details of past editions of Footprints can be found below.
Footprints Edition 4
Footprints Edition 3
Footprints Edition 2
Footprints Edition 1