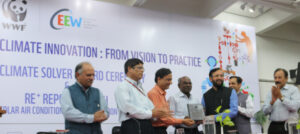 WWF – World Wildlife Conservation fund for nature and Industrial Process Heat.  What a seemingly remote connection!
But, as explained by Ravi Singh, Secretary General and CEO of WWF India at the Climate Solver Award function at New Delhi on 1st August 2014, WWF looks not just at direct ways of conservation but all the indirect ways to conserve world resources.
Climate Solver – a very apt name indeed, if we conserve resources by conserving the climate effects of pollution and burning resources, we can naturally and easily conserve nature!
Innovations like what we do in B2B space in industries, often go unnoticed by wider public.  WWF, through this innovative platform – has provided us a great recognition.  While the whole world is pitching solar as a "conserve future" and "green" kind of a platform, we try to sell on immediate economical nbenefits.  In this transformation – we have very often forgotten the  immense contribution that we are creating for the protection of environment.
Our receiving Climate Solver award gives us an increased impetus to continue doing what we do.  The incredible combination of "green" ecological benefits with "green-backs" in the form of immediate economical benefits is recognized by this frum.  Our unique credo of Fast Forward to the Solar future stems from the fact that without immediate economic benefits – adoption of green solutions will but be slow.
We are happy that WWF climate solver award will make us even faster.  We are energized by this recognition and will accelerate our company and solution even faster.
Lets Rev Up!